How brands can take responsibility for sustainability - OEKO-TEX® Webcast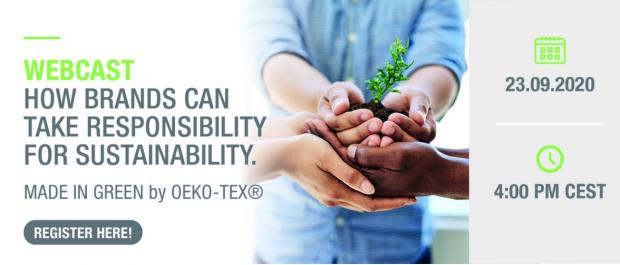 Dear OEKO-TEX® community
 
sustainable behaviour will be key for businesses to successfully meet the environmental, social and economic challenges of our time.
 
When it comes to textiles and leather goods, consumers increasingly demand transparent and reliable information to make educated purchasing decisions on the products they crave for.
 
Provide a credible answer to changing consumer needs!
 
In an upcoming seminar series, we would like to share with you how our service portfolio can contribute to optimising your supply chains.
 
From a responsible chemical management and ecological production technologies to fair working conditions and clever marketing solutions for your sustainable products.
 
Join the OEKO-TEX® community and turn sustainability challenges into a promise of success!
 
Webcast:
How Brands Can Take Responsibility for Sustainability.
 
Date:
September 23, 2020
 
Time:
04:00 pm (CEST) - a recording of the webcast will also be available
 
Speakers:
• Thimo Schwenzfeier (Show Director Neonyt, Messe Frankfurt GmbH)
• Annika Sauerhöfer (Product Manager MADE IN GREEN, OEKO-TEX®)
• Michael Möller (Division Manager Audits and Certification, Hohenstein)
• Andreas Bothe (Head of CSR & Sustainability Management for Chiemsee, Bay City Textilhandels GmbH)
 
Host:
Jackie Russell (Teak Media + Communication)
 
Stay tuned!
 
All webcast dates will be posted here: www.oeko-tex.com/en/webcasts
 
Don't miss to register in due time!
Kind regards,
Your OEKO-TEX® Team