TEXTILE/R/EVOLUTION - a successful Hungarian event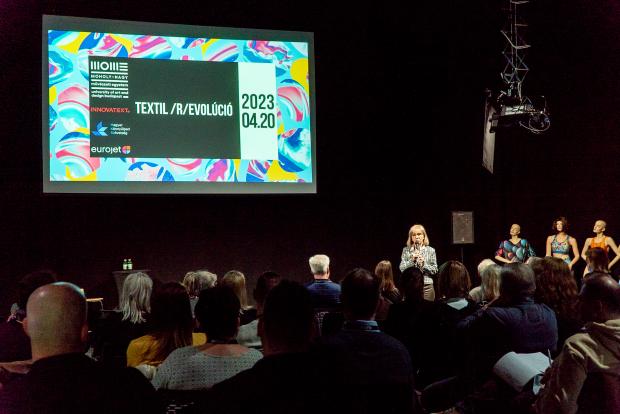 On 20 April 2023, a large-scale event was held at the Hungarian University of Arts, MOME with the theme: digital textile printing - TEXTILE/R/EVOLUTION. Focus of the event was sustainability. The event was also supported by Innovatext Co.   
Presentations, customer meetings and machine demonstrations took place during the event. Visitors were able to try out the various possibilities of digital textile printing live on the machines on display. 
Dr. Livia Kokas Palicska, in her double role as President of the Hungarian Light Industry Association, spoke about the EU textile strategy, as well as environmentally friendly textile technologies and labels that facilitate the green transition. The focus was on OEKO-TEX® certifications, which are used for supply chain transparency and traceability. Their demonstration was followed by success stories of Hungarian textile designers and companies using digital textile printing.
The event attracted a lot of interest: many of the companies asked for detailed information about OEKO-TEX certifications and contacted the key account manager of Innovatext, Ms Mária Magdolna Márton on-site.
During the breaks and after the event, numerous intensive customer discussions were held with existing customers, including the world-renowned Hungarian dog harness manufacturer Julius K9, which has recently started to print its dog harnesses digitally by a Hungarian company. The quality is tested by Innovatext.