International Projects
ENTeR PROJECT
ENTeR - Expert Network on Textile Recycling - Cooperation on innovation to make CENTRAL EUROPE more competitive
Duration: 01.07.2017 – 30.06.2020
Project index number:
CE1136
Project Partners:
Centro Tessile Cotoniero e Abbigliamen to Spa (Lead Partner) - Italy
UNIONE DEGLI INDUSTRIALI DELLA PROVINCIA DI VARESE - Italy
Pannon Gazdasági Hálózat Egyesület - Hungary
INNOVATEXT Textilipari Műszaki Fejlesztő és Vizsgáló Intézet Zrt. - Hungary
Sächsisches Textilforschungsinstitute.V. - Germany
SACHSEN!TEXTIL e.V. - Germany
INOTEX spol. s r.o Dvur Kralove n.L. – Czech Republic
ČTPT – Česká technologická platforma pro textil - Czech Republic
INSTYTUT WŁÓKIENNICTWA - Poland
ZWIĄZEK PRACODAWCÓW PRZEMYSŁU ODZIEŻOWEGO I TEKSTYLNEGO - Poland
Aim of the project: to collect information about waste from textile companies and technical solutions for recycling textiles by research and business centres, to promote innovative solutions for waste management with a circular economy approach.
Project Summary:
The proposal focuses on waste reduction to prevent depletion of non-renewable resources, by collaboration between textile companies and innovation system to find new green markets for scraps/waste and alternative solutions to raw materials. Proposal is a step towards recycling innovation and circular economy taking into account the EU policies on environmental issues. The proposal covers 5 Central Europe countries with a relevant presence of the textile industry (about 44,5% of EU-28 textile turnover, source Euratex 2015) and with a national textile platform each. The project will help to accelerate collaboration among the involved textile territories, promoting a joint offer of innovative services by the main local research centres and business associations ("virtual centre"), involving also public stakeholders in defining a strategic agenda and related action plan, in order to link and drive the circular economy consideration and strategic actions. The approach of the proposal and the cooperation between the partners are oriented to the management and optimization of waste, in a Life Cycle Design (or Ecodesign) perspective. The aim is to demonstrate the benefit of an operational collaborative model amongst research and business partners, based on an on-line tool (material match making platform) and shared skills focused on waste eco-design and resource efficiency. The on-line platform is a tool for the cataloguing, use and exploitation of industrial textile scraps and waste. This system will contribute to strengthen the innovation capacity of the textile companies in central Europe, improving a sustainable linkage among industrial textile areas to foster a closer cooperation on waste management and circular economy.
More information available here
Results of deliveries are available here:
Pilot case  (English)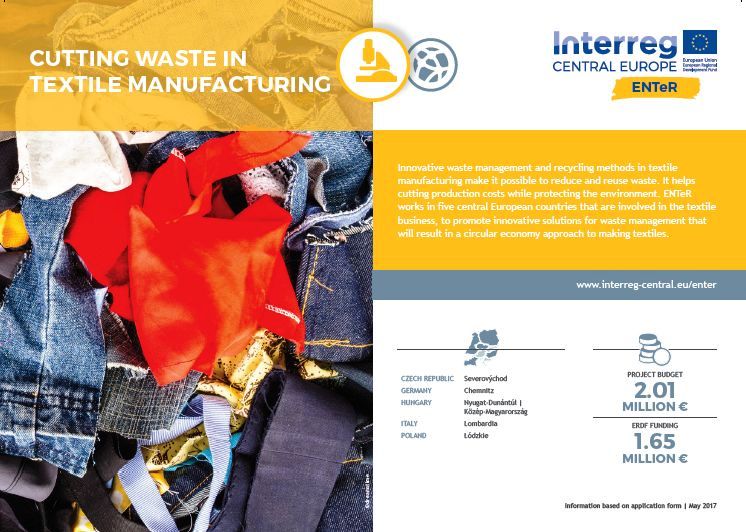 ---
EUREKA!9918 PROJECT
ProTexSafe - Functional Textiles for Vibration Protection, Safety and Well-being
Duration:
03.01.2017 - 03.01.2020
Project partners:
INNOVATEXT Co. (leader),
Glovita Kesztyű Zrt,
BME Laboratory of Acoustics and Studio Technology,
Technical University "Gheorghe Asachi" of Iasi,
SC Magnum SX srl,
SC ENERGY TEX TECHNOLOGY srl
The project aims to develop novel textile fabrics and prototypes for protection, safety and well-being. Theoretical works dealing with adoption of techniques and solutions of already existing materials and fibres are envisaged, extended by a wide-range of experimental and validation activities.
More information available here
---
NANO-MOF - PROJECT

The overall objective of this Large-scale integrating collaborative project is to engineer nanoporous materials with extremely high specific surface areas Metal-Organic Frameworks(MOFs) for industrial applications in catalysis, gas storage, and gas purification using the modular construction principles of MOFs for pore size engineering and functionalization. The project substantially strengthened the position of Europe in the industrial use of Metal-Organic Frameworks, a research area so far dominated by US and Japanese companies and research organizations. The project has also explored new MOF materials and their functionalization specifically designed for protective clothing.
Project Partners:
Fraunhofer Institute for Material and Beam Technology (IWS) - Germany
Johnson Matthey PLC - Great Britain
Katholieke Universiteit Leuven - Centre for Surface Chemistry and Catalysis Leuven - Belgium
Universidad de Granada - Departamento de Quimica Inorganica - Spain
Technical University Dresden - Institut für Anorganische Chemie - Germany
Stiftelsen SINTEF - Department of Hydrocarbon Process Chemistry - Norway
Universita degli studi di Torino - Dipartimento di Chimica Inorganica - Italy
Centre National de la recherché scientifique Lyon - France
OUVRY SAS - France
Norafin GmbH - Specially functional nonwoven textiles - Germany
Oleon NV - Belgium
Ben-Gurion University of the Negev - Israel
INNOVATEXT - Textile Engineering and Testing Institute Co. - Hungary
Societ à Italiana Acetilene e Derivati S.p.A - Italy
TDL Sensors LTD. - Great Britain
Blücher GmbH - Germany
Hollomet GmbH - Cellular materials - Germany
---
GAME 4 MANAGER - PROJECT
Game4Manager - Corporate Game for Managers in Quality, Environment, Safety and Energy - intends to promote middle and senior managers of companies. An e-learning course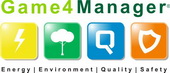 in the quality, environment, safety and hygiene/health and energy areas in simulate business environment introduces and educates the user to acquire the necessary knowledge. The game is provided through Internet in November 2010 in six languages (Portuguese, English, French, Hungarian, Greek and Swedish) and is available to all companies, regardless the area of activity, since its relevance crosses all sectors.. The game is available for every business from November 2010 in six languages (English, French, Greek, Hungarian, Portuguese and Swedish) regardless of the scope of activities, as all industries are equally affected by these problems.
Participants of the Game4Manager project:
CITEVE - Technological Centre for theTextile and Clothing Industries of Portugal
STPKC - Swedish TelePedagogic Knowledge Center
SIGMA Consultants Ltd - Greece
ATP - Portuguese Textile Association
IDEES-3COM - Centre Innovation CIEL - France
---
PROJECTS GRANTED BY THE EUREKA PROGRAMME
OZO3TEX - COLOUR PROTECTIVE TEXTILE PROCEEDINGS TO SOLVE OZONE INJURY PROBLEMS
Announced by the NATIONAL RESEARCH AND TECHNOLOGY AGENCY, Deri Miksa competition was launched in 2005 with the support of the project we work on with PANNONFLAX ,Győr Ltd and two Spanish partners. The project examined the changes in pigments and inks used in textile printing and dyeing in the presence of ozone. This disorder leads to deterioration in the quality of the textile material, which causes a serious problem in the market.
The main goal of the project is to research and develop innovative finishing processes for the production of high quality textiles to help avoid pigment resulting from increased ozone oxidation (discoloration) of Home textiles, the decor and clothing materials, and raw materials.
PLASMAPRETEX-APPLICATION OF PLASMA TREATMENT ON TEXTILES: NEW SURFACE PROPERTIES DEVELOPMENT OF VARIOUS FINISHING TECHNOLOGIES
The project aims to study the effect of different plasma treatments on textile materials- coating, laminating, dyeing, finishing, printing, etc.-for various uses in textile processes for improving and the skills and techniques in order to compare the development of higher quality products. The implementation of what we won on the DeriMiksa contest with our domestic partner, the EASTON Ltd. operating in Hódmezővásárhely.
---
PROJECTS GRANTED BY THE EU 6th FRAMEWORK PROGRAMME
INNOTEX- CONTINUOUS DEVELOPMENT TOOL CATALYZED PROCESS INNOVATION IN THE TEXTILE PRODUCTION
The three-year collaboration INNOTEX continuous innovation and development of the textile industry are addressed. Seven national research institutions, associations and companies participated in the work of the Hungarian side the TMTE and the EUROHÓD Lrt. form Hódmezôvásárhely EUROHÓD Ltd. was our partner.
FASHION TO FUTURE (F2F) - FASHION INDUSTRY INNOVATION SME SUPPORT THE EURO-MEDITERRANEAN REGION
This Coordination Action has similar targets to the ITE Projects but only pursued even wider: the textile and clothing industry in addition to the leather industry players as well. The realization of the objective methods used in previous projects was successful, in 19 countries, and with 38 partners in cooperation. 
ITE -INTELLIGENT TEXTILES AT EUROPEAN ENVIRONMENT: BUILDING, WITH LINKS AND CONSOLIDATION
For over two years of the project which is part of the Specific Support Actions (SSA) we have performed benchmarking surveys in 22 textile and clothing companies, we have placed data from 21 companies in the CORDIS database. On several information days we provided information on R & D funding opportunities offered by the EU in order to involve domestic (especially small and middle-size) companies in international co-operations and to help their integration in the EU.
---
PROJECTS GRANTED BY THE LEONARDO DA VINCI PROGRAMME
FASHION SCHOOL -THE INTERNATIONAL TEXTILE / CLOTHING TRADE EXPLANATORY DICTIONARY
The aim of the project was to create a dictionary of nearly 2,000 terms of the European textile-clothing trade in French, German, Czech, Spanish, Lithuanian, Hungarian, Polish, Portuguese, Slovenian, Slovak and English.
www.texsite.info
SEWNEW - Multimedia educational materials to new textile materials for sewing
The overall objective of the project was to develop an interactive educational tool, in which protection, sports and recreation, and clothing used in the health sector presents the innovative technological novelties in sewing materials to the participants of the garment industry.
TEXTILE AND CONSTRUCTION - TEXTILES FOR THE CONSTRUCTION INDUSTRY STANDARD TEST RESULTS OF THE INTERPRETATION OF EDUCATIONAL DEVELOPMENT TOOL
The project closed in 2005 created a web-based evaluation system for textile products in five languages ​​of the European textile industry and building industry participants which launched the exchange of information and the interface created between the two sectors.
SMADETEX - A MULTIMEDIA DEVELOPMENT TOOL FOR TEXTILE STUDY OF ERRORS
The SMADETEX project is a product of a five-language ​​textile collection of errors which is illustrated by hundreds of pictures of industrial errors, giving a detailed description of the error the potential source of origin, method of repair, etc.